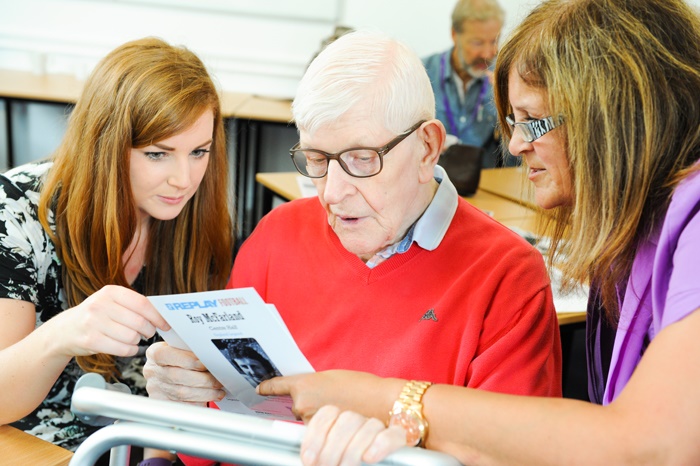 by Emma Harris
We've all experienced that feeling when our muscles remember how to do something we thought our minds had forgotten, perhaps riding a bike or swinging a tennis racket. We may assume that an individual with dementia soon loses access to these memories along with names, places or facts, but our motor memories (or muscle memories) are actually amongst the last parts of our brains to be affected by dementia. This means that an individual may still be able to recall movements stored long ago in their muscle memories. Lisa Krieger of Mercury News tells the story of Jim Byerlee, an 84-year-old living with dementia, who was taken to play golf by his care home staff. Jim was able to swing a golf club with all the accomplishment of a retired athlete.
Like Jim, everyone has been touched by sport in some way, whether playing it, watching it, on TV or attending live events. As Tony Jameson-Allen, co-founder and director of The Sporting Memories Foundation, says 'You don't have a choice, everyone has memories of sport'. Sporting Memories advocate the importance of sport, not only to keep older people active, but as a way to encourage positive emotions and a sense of community through reminiscence. They work with care homes, libraries and other communities to organise groups sessions at which older people can discuss their own experiences of sport. Sporting Memories provides resources and training to staff to help them trigger memories and draw on the positive emotional impact sport can have. As Jameson-Allen explains, 'one of the best ways to spark memories is other people's memories'; they focus on the strengths of people with dementia: their long-term memories.
Sporting Memories discovered that talking about sport motivated participants to be active, and now organises reminiscence sessions followed by physical activities, including walking, football and curling. Joyce, a 96-year-old erstwhile ice dancer, is one such motivated person. She was taken to an ice rink by a member of her care home staff and, by using an adaptive frame, was able to experience all the sensations of being on the ice again.
Physical movement can play a vital role in improving the quality of life of an individual with dementia. It encourages physical and mental stimulation, can prevent depression and assists with sleep. Many organisations have discovered the power of active care and the numerous ways it can be tailored for all ages and abilities.
The Bat Foundation describes exercise, or more specifically table tennis, as a 'drug free Alzheimer's therapy'. As part of their research, a team of neurologists took MRI scans to compare the brains of people with dementia who play table tennis and those who don't. The scans revealed that certain parts of the brain light up dramatically in those who had just played table tennis; the concentration and co-ordination required to play the game stimulates the hippocampus and can delay cognitive decline. As a result, they have designed a table tennis table specifically for people with dementia, using colour contrasts to aid sight and side panels to assist with play. Annie Ingram, a voracious player, comments, 'I can do this, I'm loving it!'.
Another sport which appeals to all ages is swimming and is known to have a positive impact on people with dementia, particularly because water offers a feeling of being weightless, thereby relaxing the body. But a public pool may be a daunting environment for someone with dementia and their carer. The Dementia Friendly Swimming Project aims to make swimming pools a safe and welcoming environment for people with dementia. They work across the UK, creating a network of dementia-friendly pools by producing guidance and offering training to swimming staff to achieve this aim.
Dance, on the other hand, is an activity which can be brought directly into the care home. Alive!, based in Bristol, offer dance and movement sessions which focus on the potential this activity has to help older people express themselves when they are no longer able to fully communicate their feelings; it's about using dance to interact with individuals through rhythm and music. Alive! also offer training programmes to staff to help them bring active care into their own care homes, and run 'Active Care Forums' across the South of England for anyone working with older people. Becoming a member of a forum is a great way to pool new ideas and share experiences, whilst also gaining access to training, support and resources on active care.
JABADAO is a somewhat more unusual organisation. SPAGOG, Seriously Playful Armchair Games for the Old and Gorgeous, is a league event which uses basic movements and games with the simple aim of making life better. This is how it works: JABADAO teach the games to carers to play with their residents, the carers return the scores to the organisation, and results are published online weekly so care homes, friends & family can see which team is leading. Two finalist teams play against each other for the famous SPAGOG cup. JABADAO specialise in creating activities for people in late stages of dementia, and offer training for carers to improve the non-verbal communications of these individuals. Contact JABADAO if you'd like organise a competition in your area.
All of the above organisations, and more – see links below – offer the opportunity not only to maintain or increase physical fitness, but to become part of a community and interact with others through a medium other than speech. As Tony Jameson-Allen says, 'it's about friendship and keeping people supported just as much as it is about sport itself'. When words are a struggle, it can be the things which do not require any words at all that can offer us the most support.
Resources:
The Bat Foundation
Deliver specialised table tennis Alzheimer's therapy programme
Dementia-Friendly Swimming
Organisation working to make swimming pools across the UK welcoming for people with dementia
The Sporting Memories Foundation
Work with communities to organise group sessions to discuss sport
Dance and Dementia
Offer dance sessions to individuals or groups
Alzheimer's Society: Exercise in the early to middle stages
Advice from the Alzheimer's Society on exercise for those in early to middle stages of dementia
Alzheimer's Society: Exercise in the later stages
Advice for those in later stages of dementia
Association for Dance Movement Pschotherapy UK
Resource to find dance movement therapist for individual or groups