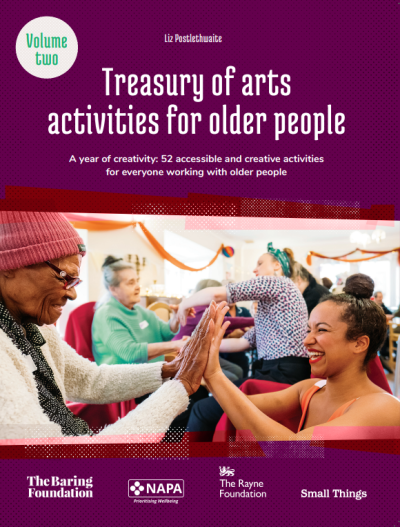 We asked Alison Teader to tell us a bit more about Arts in Care Homes and the opportunities available for anyone in a caring partnership to get creative.
But firstly let us consider why the Arts?
There is plenty of research to prove that access to the arts makes people happier and healthier. Grayson Perry's Art Club series showed how powerful the creative arts can be for bringing people together and giving them a voice. Everyone has the capacity to express themselves in any art form, it's all about giving ourselves permission, encouragement, time and the space to try something new. For many, getting creative has been a lifeline during the solitary months of lockdown.
Arts in Care Homes believe that a wide range of arts activities should be offered on a daily basis to enhance quality of life and increase wellbeing and motivation in care. We are delighted that Alison Teader, Programme Director for NAPA Arts in Care Homes has taken time to share some creative opportunities we can all get involved in.  (Anna Park)  
Over to Alison…
Who are NAPA?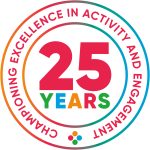 The National Activity Provider's Association or NAPA is the UK's leading activity and engagement charity. Their vision is for the arts and meaningful conversation to become an integral part of care provision so people can live content, creative and connected lives. As a membership organisation they support people to develop the essential knowledge, skills, and confidence required to prioritise wellbeing and provide person-centred activity and engagement. You can find a wealth of useful resources, training opportunities and information about upcoming events on the new NAPA website: https://napa-activities.co.uk/
What is the Arts in Care Homes Project?
Arts in Care Homes is a five year project managed by NAPA and funded by The Baring Foundation and The Rayne Foundation. There is a wealth of arts activities taking place in care homes across England. These range from everyday creative activities run by staff members, including flower arranging, woodwork and watercolour painting to large scale arts projects such as A Choir in Every Care Home.
We want to promote and celebrate existing arts activities and encourage more.
In recent years we have launched the National Day of Arts in Care Homes on 24th September to encourage everyone to have a go by planning an arts event big or small involving any art form. Look out for more information about this year's event coming soon on our user-friendly website, where you will also find a wealth of related resources, research and information: www.artsincarehomes.org.uk
A little bit about me… Prior to managing Arts in Care Homes, I worked as Creative Arts Co-ordinator at Central & Cecil, a London based housing trust, for over 20 years, working closely with staff, people receiving care, volunteers, relatives and artists to develop meaningful and exciting arts activities and opportunities in care homes and sheltered schemes. I was delighted to take up my current role, which enables me to build on my experience of and passion for developing arts in care settings and working with the very experienced and dedicated team at NAPA.
Four Fantastic Arts opportunities for everyone…
1 Art by Post: Explore and Inspire –  in collaboration with the Southbank Centre
This free creative booklet is for care-givers, people living with dementia or long-term health conditions as well as practitioners and professionals working in social/healthcare settings.The booklet is an invitation to take a sensory exploration with those around you, sparking the imagination, keeping minds active and feeling connected. We hope these activities generate inspiration from within your home, and encourage creativity and expression to blossom.
Explore and Inspire is a collaboration between Thessa Verwolf and Emily Chilvers from Nightingale Hammerson, puppeteer Nenagh Watson, Alison Teader and Natalie Ravenscroft from NAPA Arts in Care Homes, and the Southbank Centre. We believe it's important for everyone to take time out from their daily routine to enjoy doing something creative.
We have 1000 booklets to post out, sign up for yours here. In addition to receiving Explore and Inspire, we'll also send you a postcard each month with a different creative activity, inspired by our Art by Post community.
2 Treasury of Activities for Older People: Volume 2 – The Baring Foundation 
By Liz Postlethwaite, The Baring Foundation
This treasury includes 52 accessible and creative activities to inspire anyone working with older people.
3 Every Corner Network – started Tuesday 11 January 10am – online monthly sessions
Creativity across care homes
This welcoming network meets online on the second Tuesday of each month to invigorate, inspire and create together. Each session is led by the Southbank Centre and NAPA (National Association for Providers of Activities for Older People). The sessions connect professionals and volunteers working in care settings across the UK interested in embedding creativity into every corner of the homes they work in. The sessions are free and require no previous art experience –all we ask is that you come with an openness to share your experiences and try new activities with us.  If you'd like to join us please email creativecare@southbankcentre.co.uk and we'll add you to our mailing list. 
4 Only Connect Pen Pals
This Project began in 2019 as a response to the coronavirus situation. Originally a postal project we now ask pen pal partners to send messages of support, including letters, postcards, artwork and poems to care homes via email. We have already linked up over 300 care homes with Only Connect Pen Pal partners including, artists, art organisations, school children, families and individuals.
You can download the Only Connect Resource pack for care homes here
And if you are a Care Provider you can find out more about the project and how to sign up here: https://artsincarehomes.org.uk/aboutonlyconnect/
You might also be interested to read our latest consultation report asking the question:
What would it require for all care homes in England to offer their residents access to relevant creative and cultural opportunities on a daily basis?
Read the results of NAPA's 2020 consultation with residents, staff teams and relatives: Arts and Culture in Every Care Home? NAPA Consultation report.
Click here for a free downloadable copy of the report.
To find out more about the Arts in Care Homes Project and the work we do to support the arts in care please visit our website: https://artsincarehomes.org.uk
Many thanks for listening,
Alison Teader
Programme Director, Arts in Care Homes
Website: www.artsincarehomes.org.uk
Twitter: Artsincarehomes
Facebook: artsincarenapa
Instagram: artsincarehomes